Programs
Tahoe Elementary's before and after-school programs support and enrich our school's students, developing their talents and enhancing what they learn each day in school. Both programs are run by Sacramento Chinese Community Service Center. Online application.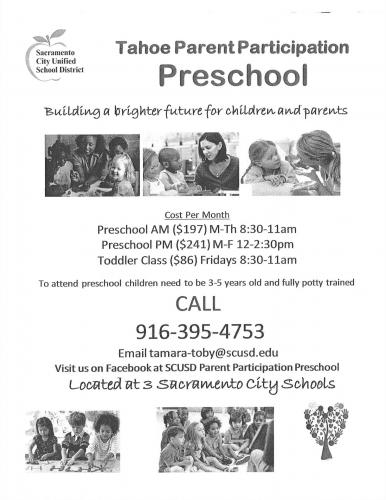 The Parent Participation Preschool is for children 2-5 years old and fully potty trained. Toddlers will attend with a parent or caregiver. Children who do not qualify for TK (TK is for children turning 5 between Sept. 2 through Feb. 2) may still attend PPP.
Morning Class: 8:30am-11:00am cost: $197 per month
Afternoon Class: 12:00pm – 2:30pm cost: $241 per month
Toddler Class: Fridays 8:30am-11:00am cost: $86 per month
Parent participation is required 1 day a week for preschool.